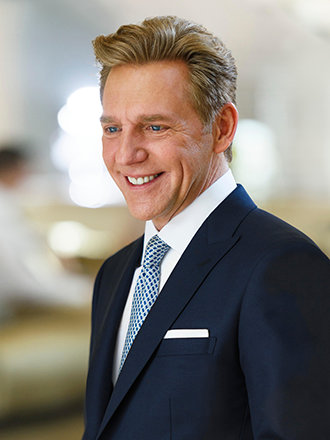 David Miscavige is Chairman of the Board of Religious Technology Center (RTC), a non-profit organization formed in 1982 to preserve, maintain and protect the Scientology religion.
RTC holds the ultimate ecclesiastical authority regarding the standard and pure application of L. Ron Hubbard's religious technologies. Religious Technology Center is not part of the management structure of the Church, nor is it involved in the Church's day-to-day affairs.
The Chairman of the Board is the most senior office in RTC, and one for which David Miscavige is uniquely qualified. An active Scientologist for most of his life, he first became a Church staff member in 1976 and has since been involved with nearly every aspect of the Church's activities.
As a young man, Mr. David Miscavige studied to become a Scientology minister and for several years he provided spiritual counseling to parishioners. He later worked closely with Mr. Hubbard, aiding in the production of instructional films and materials for Scientology ministers-in-training. A few years later, he progressed to international management, with responsibility for the worldwide activities of Church missionaries. In 1987, Mr. David Miscavige became the Chairman of the Board of Religious Technology Center.